Home Modification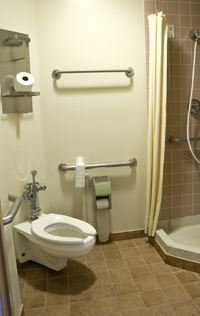 Aging In Place includes the idea that you can continue to live on your own, instead of with family or in a nursing home, if you are given the necessary help, and if your living situation is adapted to your abilities. Home Modification Is aimed at making your place Senior Friendly. Recommended modifications may only include little things like removing trip hazards, or installing grab bars. Or it could mean more extensive renovations such as widening doorways, and installing ramps or lifts. Each situation may be different. It's important to have an evaluation done by an experienced professional who can help develop a modification plan appropriate to your particular circumstances.
ELDER ACHIEVERS will coordinate this type of project for you. We team with *CEAC-CAPS Consultants to assure home modifications are properly integrated with your identified personal needs and independence plan.
A Certified Environmental Accessibility Consultant a "CEAC" is a professional who has a qualified background in the field of aging in place, home modifications, construction for the disabled and elderly and physical medicine or rehabilitation experience. They are credentialed to perform this service.
Certified Aging in Place Specialist or "CAPS" Is a professional of choice who is also recognized through a national certification requiring experienced professionals.
Press Here for more extensive information on the Aging In Place/Home Modification Process:
Elder Achievers Provides: